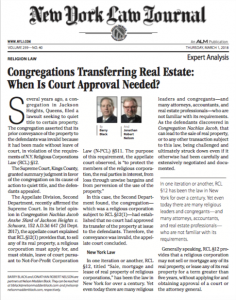 The Religious Corporations Law and Religious Organizations' Real Property Transfers
Partners Barry Black and Jonathan Robert Nelson co-authored the New York Law Journal's inaugural Religion Law column. The article focuses on the approval necessary prior to a religious institution's transfer of real estate as set forth in New York's Religious Corporations Law.
This is the first article in a new quarterly series for the New York Law Journal on Religion Law. Partner Barry Black has been designated by the NYLJ as its Religion Law Columnist.
Click here to view the full text of the article,